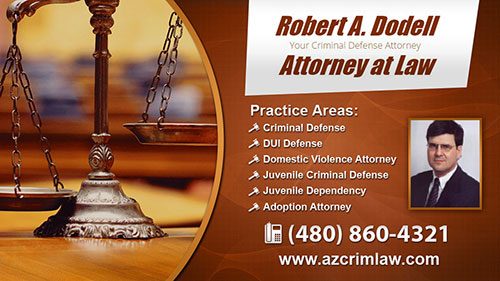 — Robert A. Dodell has been providing legal services for people seeking legal counsel in the areas of domestic violence, criminal defense, DUI/DWI and juvenile defense for over 30 years. His experience, expertise and a proven track record has made him one of the best criminal defense lawyers in the city. His firm has recently made an announcement in which the company has confirmed that he will now be providing his legal services as a criminal lawyer in Tempe, AZ and the firm will be assisting its clients with complete dedication.
"Robert has more than 30 years of experience in providing personal legal services to his clients. In those 30 years, he has successfully handled thousands of cases and gained a tremendous reputation for himself", the representatives from the firm said. They added, "With our firm now serving the city of Tempe, AZ, we wish to make sure that people in need of legal counsel get the best possible services and consultation from Robert A. Dodell, Attorney at Law in Tempe, AZ."
Hiring the best possible attorney in case of being convicted of a crime, even a misdemeanor is highly suggested; otherwise, one could end up incarcerated or may face heavy fines, probation, counseling, suspension of license or loss of civil rights. Being convicted also means the chances of finding a job can also be limited. "We understand that such instances can completely change one's life and make it difficult for the convicted person and their loved ones. We are committed towards serving our clients with sensitivity, create an atmosphere of open communication, give complete attention to each and every detail and provide them correct legal guidance", the representative said. They added that with someone as experienced as Robert representing them, defendants can rest assured that their case is in professional hands and can hope for a positive result. "Whether people need a criminal or DUI attorney in Tempe or they seek legal aid in cases of domestic violence, juvenile crimes or any other matter, Robert makes sure to provide a direct and personal contact with the clients he works with. He is committed towards his clients and is involved in their cases right from the start to finish", they mentioned.
Robert A. Dodell, Attorney at Law, as a firm, works towards a goal of offering more than just a regular law firm. Potential clients in the city of Tempe can now seek the legal aid from a seasoned attorney with a proven track record. For additional information and tips, visit the blog at https://azcrimlaw1.blogspot.com
Originally posted on: https://marketersmedia.com/robert-a-dodell-attorney-at-law-announced-its-legal-services-in-tempe-az/216174
For more information, please visit https://tempe.azcrimlaw.com/practice-areas/